Our Capabilities: Spenomatic Group's Impressive Solar Installation Solutions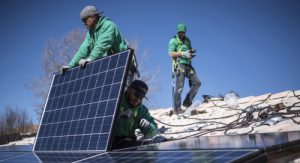 Spenomatic Group is a leading renewable energy solutions provider, specializing in the design, installation, and maintenance of solar energy systems.
With over 25 years of experience in the industry, we have honed our capabilities to deliver innovative, efficient, and sustainable solar solutions for residential, commercial, and industrial clients.
Expert Design and Consultancy
We begin every solar installation project with a thorough consultation to understand our clients' needs and goals.
Our team of expert engineers and designers then work collaboratively to design a customized solar energy system that meets the unique energy demands of each project.
Quality Installation
Our installation team comprises skilled professionals who possess a wealth of experience in installing solar panels, inverters, and other components.
We employ cutting-edge tools and technologies to ensure that our installations meet the highest quality standards and deliver optimal energy efficiency.
Comprehensive Maintenance Services
At Spenomatic Group, we understand that proper maintenance is critical to ensuring the longevity and optimal performance of solar energy systems.
That's why we offer comprehensive maintenance services to our clients, including regular inspections, cleaning, and repairs.
Innovative Solutions for Sustainable Energy
Our capabilities go beyond just solar installation.
We are constantly exploring new technologies and innovations to provide our clients with sustainable energy solutions that meet their evolving needs.
Whether it's incorporating energy storage systems or developing hybrid solar solutions.
We are committed to delivering the most innovative and cutting-edge solutions in the industry.
Trust us to Power Your Future
At Spenomatic Group, we are passionate about helping our clients transition to sustainable and renewable energy sources.
Our capabilities in solar installation, coupled with our commitment to innovation and sustainability, make us the perfect partner to power your future.
We guarantee our clients high-quality solar solutions that are efficient, reliable, and sustainable.
Trust us to help you join the growing movement towards a cleaner and greener future.
conclusion
Spenomatic Group's impressive capabilities in solar installation make us a trusted partner in providing sustainable energy solutions for our clients.
From expert design and consultancy to quality installation and comprehensive maintenance services.
We have the expertise and experience to deliver the highest quality solutions for your unique energy needs.
Contact us today to learn more about how we can help you transition to a cleaner, greener future.